Purab Viswanath, MD
Board-Certified Orthopaedic Surgeon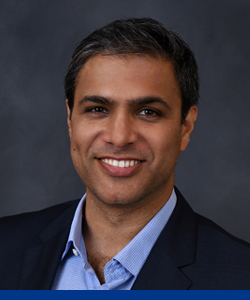 Dr. Viswanath enjoys being able to help patients with their pain and dysfunction through the practice of orthopaedics. When asked about his approach to patient care, he reports he "takes pride in seeing a tangible difference" in the patients he treats through both surgical and conservative measures.
Education & Training
After earning his undergraduate degree at Northwestern University, Dr. Viswanath returned to his home state of Ohio to earn his medical degree at Ohio State University. From there, he completed his orthopaedic surgery residency at UPMC Hamot Medical Center, under the tutelage of Dr. John Lubahn. Following this, Dr. Viswanath completed a hand/upper extremity fellowship with the Florida Orthopaedic Institute, training under the renowned surgeon Dr. Alfred Hess.
Dr. Viswanath has authored many scientific journal articles and spoken at several orthopaedic conferences at the local and national level. He is Board Certified by the American Board of Orthopaedic Surgeons.
When away from work, Dr. Viswanath is a fervent drummer and snowboarder. He also enjoys hiking with his wife in beautiful Southern California.