Aneet Toor, MD
Board-Certified Orthopaedic Surgeon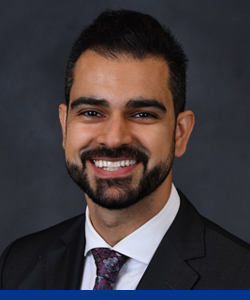 Meet Dr. Toor, a highly trained specialist in sports, shoulder, and fracture surgery. His specialties include minimally invasive arthroscopic surgery and outpatient shoulder replacements. Dr. Toor strives to bring compassion, understanding, and expert care to all patients whether it is for improvement in physical function or better pain relief.
"Orthopaedics allows me the opportunity to restore a person's happiness by bringing back their quality of life. For me, that is the most gratifying aspect of my job as a physician," he says.
Prior to joining the team at COS, Dr. Toor earned a Doctorate in Medicine from The Ohio State University and graduated cum laude with a Bachelor of Science from UCLA. After completing orthopaedic surgery residency at the University of Chicago, he completed a sports medicine fellowship at the renowned Kerlan Jobe Orthopaedic Clinic in Los Angeles.
While at Kerlan Jobe, he served as a team physician for the Los Angeles Lakers, Los Angeles Dodgers, Los Angeles Kings, and Anaheim Ducks.
As a native of the San Fernando Valley, he is happy to be back and serve his hometown. He currently serves as team physician for Crespi High School and Kennedy High School. He is an avid moviegoer and regularly plays tennis and beach volleyball.
Dr. Toor is Board Certified by the American Board of Orthopaedic Surgery, and is a member of AAOS and AOSSM.