Andrew Rah, MD
Board-Certified Orthopaedic Surgeon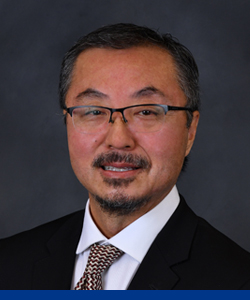 Dr. Andrew Rah has been in the field of orthopaedics, sub-specializing in spine surgery since 1997.
Dr. Rah's Specialties Include:
Degenerative Disk Disease
Disc Herniations
Spinal Stenosis
Spinal Instability
Robotic Assisted Surgery
Disc Replacement Surgery
He has extensive experience in non-operative and operative treatment of spinal disorders. He performs microscope-assisted cervical and lumbar procedures, motion preservation procedures (disc replacement), and minimally invasive fusion and decompression treatments.
Dr. Rah's professional goal is to provide compassionate, quality care to patients with spinal disorders. He has presented research at national spine meetings and has published scientific articles and chapters in spine textbooks. "I find spinal ailments—either surgical or non-surgical—to be another level of challenge," he says. "It's rewarding when someone comes in with nerve pain and I can help that pain go away. It's life changing to that individual." In 2008, Dr. Rah relocated from the South Bay to the West San Fernando Valley. When outside the office, he enjoys spending any spare moments he has with his wife and three boys. He also enjoys exercising and travelling.